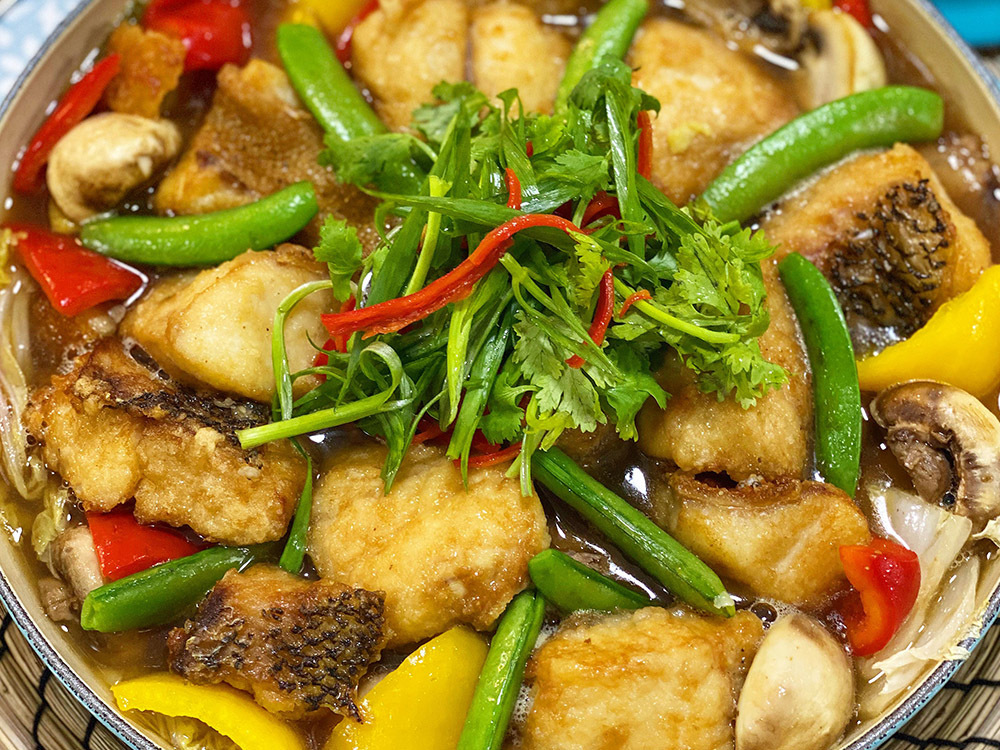 Ingredients:
Claypot Fish:
900g Fish Fillet
150g Yam
100g Roasted Pork
100g Button Mushroom (canned/fresh)
4 leaves Chinese Cabbage
½ Red Capsicum
½ Yellow Capsicum
½ pack sweet pea
6 slices Ginger
3 cloves Garlic
4 pcs Sweet Dang Gui
Garnishing – Red chilli, spring onion & coriander
Fish marinades:
1 tablespoon light soy sauce
1 tablespoon shaoxing wine
2 teaspoon sesame oil
½ teaspoon sugar
1 tablespoon potato starch (add before frying)
Sauce:
600 ml stock
2 teaspoon Oyster Sauce
1 teaspoon Light Soy Sauce
½ teaspoon Dark Soy Sauce
1 teaspoon Ginger Juice
1 tablespoon Shaoxing Wine
Pepper
1 teaspoon Cornflour
Method:
Marinate fish chunks for at least 1 hour, dusted with potato starch before frying.
Heat up wok to fry yam, roast pork and marinated fish chunks. Drain off oil and set aside.
Heat up claypot with oil, sauté sliced garlic, mushroom, capsicum and sweet pea till half cooked. Dish out and set aside.
Add some sesame oil in claypot, sauté sliced ginger & dang gui till fragrant.
Add in Chinese cabbage and sauce. Bring to boil.
Turn to low fire, arrange the precooked fish and all other ingredients in, cover and bring it to boil.
Garnish and serve.
Check out more seafood recipes on @WensDelight on IG.