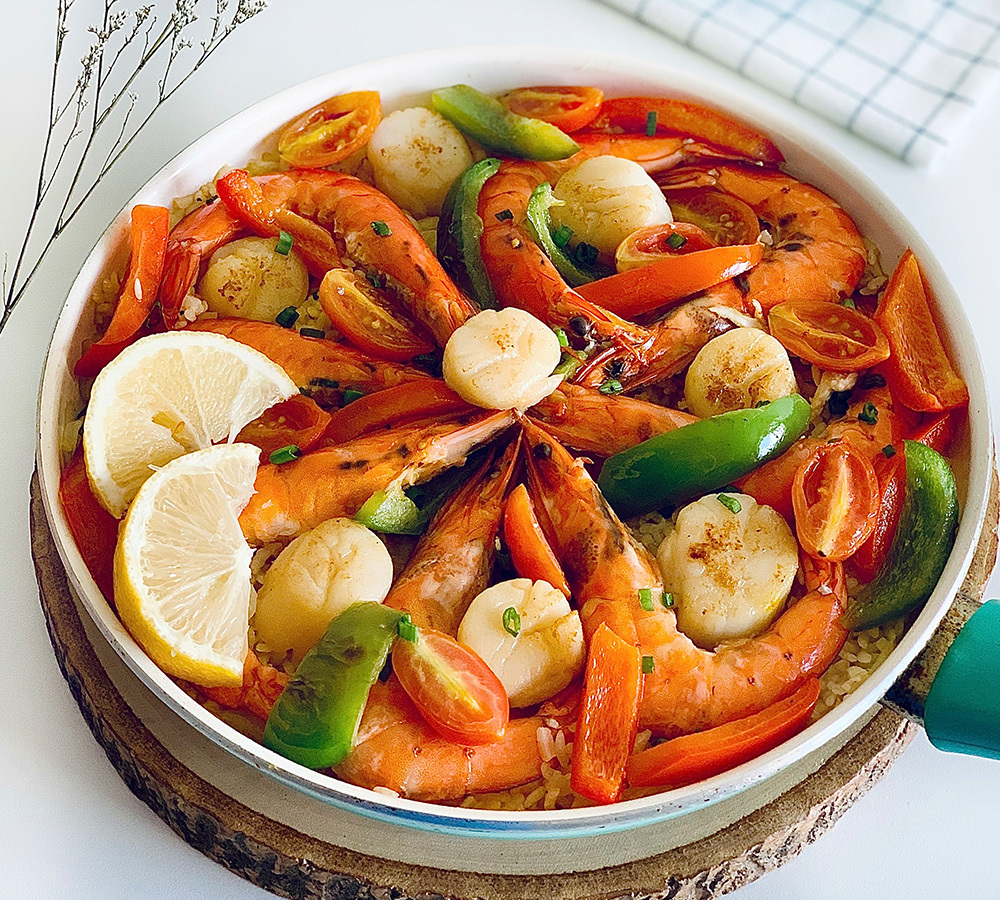 Ingredients:
Shrimp 300g
Scallops 200g
Chicken breast 100g (season with 1/4 tsp salt, pepper and corn starch)
Garlic 4 cloves (minced)
Onion 60g (diced)
Green Capsicum 50g (slices)
Red Capsicum 50g (slices)
Cherry Tomato 5 (halved)
Japanese rice 200g
Saffron (a good pinch)
Chicken broth 220cc
½ teaspoon Black pepper
½ teaspoon Salt
Butter 20g (to grill scallops)
Butter 20g (for cooking)
Spring onion 1 stalk (for garnishing)
*soak saffron in the chicken broth for half an hour at least
Method:
In the pan , put in butter n grill scallops till brown n set aside.

In the same pan, add in the other butter n sauté garlic n onion till fragrant.

Add in chicken n the rice, fry till rice translucent, stir in saffron n broth n mix well. Add in salt n black pepper n mix thoroughly.

When the broth is quite drained , arrange shrimps n scallops evenly on top, cover the lid n cook for 12 mins over low to medium heat.

Next, add in capsicums n cherry tomatoes on top n let it steam for about 10 mins.

Remove lid n continue to cook over high heat for an minute to reduce the excess water.

Mix well n place it in the plate n garnish with spring onion n lemon. Enjoy!
Check out more seafood recipes on @CookingInSerenity on IG.