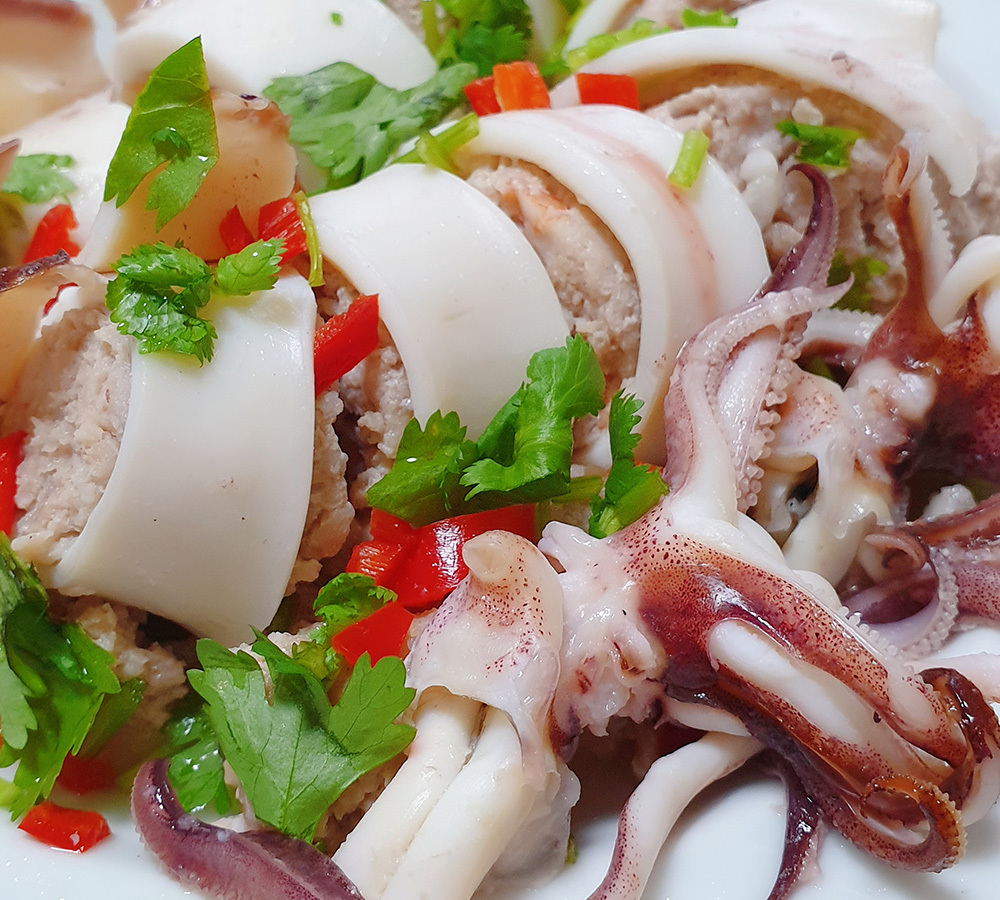 Ingredients:
2 Large Squids/Sotong
250gm Minced Pork
10pcs Medium Prawns
1 teaspoon Salt
½ teaspoon Garlic Salt
1 tablespoon Light Soy Sauce
1 teaspoon Sesame oil
1 teaspoon Corn flour
Dash of Pepper
Garnishes:
Diced Chilli and chopped Spring Onion for garnishing
1teaspoon Garlic/shallot Oil
½ teaspoon Sesame Oil
Method:
Wash and clean the squids/sotong bodies, reserving the heads and removing the skin
Clean and devein prawns. Chopped into big pieces roughly.
Marinate minced pork and prawns with salt, garlic salt, light soy sauce, sesame oil, pepper and corn flour.
Spoon each squid with the meat filling 3/4 full.
Use a toothpick, secure each squid to prevent the meat coming out.
Place the stuffed squids on a plate, ready to steam.
Steam squids/sotong on high fire for about 15mins.
Place cooked squids/sotong on a serving plate. Drizzle sesame oil and garlic/shallot oil over the squids and garnish with diced chili and chopped spring onion/parsely.
Serve hot and enjoy.
Check out more seafood recipes on @Jeanni62 on IG.